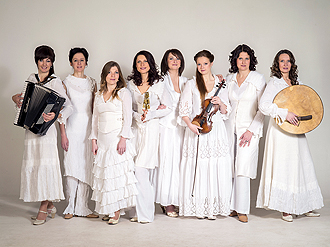 The vocal group PUTNI was established in 1993 in Riga, Latvia by eight singers who all learned their skills in professional choirs in Latvia – the National Academic Choir Latvija, The Latvian Radio choir, the Ave Sol chamber choir, the Riga Vocal Group, group Marana, etc. Members of the group frequently participates in different other musical projects both as solo singers and conductors.
Key, most important events:
2011 CD PILSĒTAS ROMANCE/ THE URBAN ROMANCE (PRCD 257, P – Platforma.lv/Putni)
2011 Festival Latvian New Music Days
2010 The Urban Romance -Tripartite performance with elements of ambient, jazz and rock music.
2010 festival Latvian New Music Days
2009 project "Voix/Balss" .Exchange programme of choirs Choeur de Jade (Switzerland) and PUTNI (Latvia)
2009 festival Latvian New Music Days
2008 festival YOUrope together (Essen, Germany)
2008 7th Liepaja International organ music festival, special guest Vocal ensemble PUTNI in collaboration with organist Lotars Džeriņš
2008 Faces of Woman. Baltic – Celtic music programm (Riga, Latvia). Vocal ensemble PUTNI, vocal ensemble TAPESTRY (USA), Shira Kammen, violin (USA), Charles B.Griffin, percussions (USA), Ivars Bezprozvanovs, cello (Latvia)
2008 Educationally musical performance for children in collaboration with Puppet theatre "The story about the lost music bar and coming consequences" - the libretto Antra Drege and Pēteris Trups.
2008 24th Latvian Song and Dance festival (Latvia). Concert "Love songs"
2008 festival in Basque country ERROBIKO FESTIBALA (France)
2008 CD TOCCATA ALLA FANTASIA (HBF007, P Carmina Baltica)
2007 CD ECUMENIC CHRISTMAS (HBF005, P Carmina Baltica)
2007 festival Un Printemps Français in Latvia , common concerts of vocal ensemble PUTNI and Basque singer and vocal improvisator Beñjat Achiary (France)
2006 Bridges. Two traditions os Song. Concerts in Boston (USA)Vocal ensemble TAPESTRY (Boston, USA), Vocal ensemble PUTNI (Latvia), Percussionist Taki Masuko (USA)
2006 CD HILDEGARDE'S SONGS for 5 female voices, three kokles', recorder and organ (PCD4, P Putni)
2005 the Etonnante Lettonie festival in France
2003 CD PAMOŠANĀS (PCD3, P Putni)
2001/2002 Concert ture in Australia
2002 festival the IMAGES - foto, cinema, literature et musique ( Paris, France)
2000 Dance and music. Project together with Latvian origin Hindu dancer Vija Vētra
1999 CD EIGHT DAYS A WEEK(PCD2, P Putni)
1999 international festivals of Professional music in Nordkirchen and Oldenburg Germany
1997 CD PUTNI (PCD1, P Putni, producer A.Dreģe)
1995 Grand Prix at Kotka International Choir contest
1993, 1994, 1995 Winner Awards in international choir contests in Tampere (Finland), Kotka (Finland), Oskarshamn (Sweden)